With the weather warming up and spring in full force, more and more people have been breaking out the bikes! Whether it's for transportation or for leisure, staying hydrated while on the go is essential. Custom bike water bottles are the perfect opportunity for small businesses to connect with their audience during the warmer months. World Bicycle Day is celebrated on June 2nd, so it's the perfect opportunity to release your own custom bottles! It's a unique way to promote your brand and share your message with more people.
Creating promotional bike bottles is a great idea for many different businesses, the most obvious being bike shops. Bike shops offer all the things one could need to maintain their bike, so why not also offer them a custom water bottle to take with them on their ride! Promotional water bottles align perfectly with bike shops, and it allows shops the opportunity to provide their customers with something custom and personal.
Bottles like these are highlight customizable, which makes it fun to create your very own! Check out our Pint Sports Bottle with View Strip, for example. This is a classic bottle that's perfect for cyclists. It is a 16oz bike bottle so it's easy to take on the go and its push-pull cap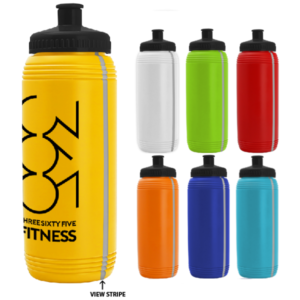 make it easy to drink from while moving around. It's also low-cost and kid-friendly! We love this bottle because it also comes in a lot of different color options for both the base and the lid. Customize it to suit your vision and brand. You can browse through some of other bottles that are specific to bikes on our site here.
Do you have a certain bottle design in mind already? You can search our site's different categories right on the homepage to find what you're looking for. Our team is here to help answer any questions you might have about bike water bottles. And any other bottles you might come across on our site! Our team personally tests each one to ensure high product quality, so we are your one-stop-shop for all things custom water bottles!