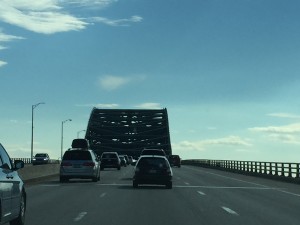 I recently traveled across the country with my family—and some of our employees' favorite water bottles. Two weeks and 3000 miles later, I definitely have an opinion as to what the best promotional water bottles on our site are. My needs may not match yours, but I can say without a doubt that these are my favorites…and are worth every penny!
We've raved about our Thermal Insulated Water Bottle in staff reviews, but I seriously can't say enough about this bottle. I used one in the 17 oz. size that's on our site, and I also brought along a 26 oz. bottle. I left the large one in my car overnight, and the water inside was still cold the next morning—even after sitting in the morning sun and heat for several hours! The 17 oz one, while it was brought in to the hotel for the night, still had solid ice in it the next day! These bottles are sleek, stylish, and fit in all of the cup holders in our SUV!
Another favorite vessel of our road trip is the Chill insulated tumbler. You can find it on our sister site, Bulletin Basics, since technically it's not a water bottle. The Chill is designed after the uber-popular Yeti drinkware line, and is constructed with copper-vacuum insulation (but costs much less!). My ice (albeit shrunken) stayed solid in the tumbler for over 24 hours, and the water was cold and tasted great. I got compliments on the Chill every time I carried it, and when I tipped it, nothing spilled out. I didn't tip it totally upside down, but I did have it filled and at precarious angles more than once or twice. That was impressive to me considering it's a simple push on, pull off lid (with a pretty good seal, apparently!).
The other bottle that proved itself worthy was our Small Tritan Water Bottle with Straw. I've written about this one before (you can read it here), but it's worth mentioning that we still love this bottle! It's small, easy for kids to transport, and comes in great colors. We took three on our trip, and we're glad we did!
So, there you have it. My picks for our site's best promotional water bottles, as tested by three kids, one dog, one husband, two weeks, and 3000 miles.