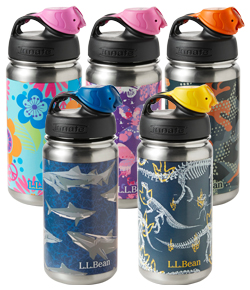 The recent kids water bottle recall announced by LL Bean hammers home the importance of product safety—whether in the promotional products industry or in everyday shopping trips. It also reinforces Bulletin Bottle's strict policy on child safety, and reminds us all of why this is in place.
This week, approximately 6,700 kids water bottles, sold exclusively at outdoor retail giant L.L. Bean, are being recalled because of lead concerns, according to the Consumer Product Safety Commission. The CPSC said the lead solder at the exterior base of the bottle contains high levels of lead. The recall involves five styles of insulated water bottles with printed graphics meant to appeal to children.
We are proud to offer a selection of kids water bottles that have been tested for use by children under the age of 12. Certain tests, like small parts and lead content, exist specifically to avoid situations like the LL Bean recall. As a company, we are committed to informing you about any safety regulations applicable to your product so you can select the best kids water bottle for your recipients. In the unlikely event of a recall, the discrete tracking numbers that we print on these bottles will help you, and your recipients, quickly identify if the bottle in their hand is affected.
If you plan to distribute your bulk water bottle purchase primarily to children under 13, we WILL NOT SELL you products that have not undergone CPSIA mandated testing for use by children in your age range.
If you think you may have one of the recalled LL Bean bottles, click here for more information.