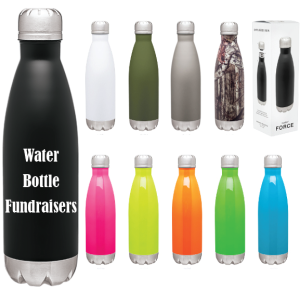 Many of our nonprofit clients that hold water bottle fundraisers think they want to buy cheap water bottles to resell. After all, getting the most bottles you can for the money makes sense, right? At first glance, it might seem that way. However, this is not usually the way to maximize a return on your investment.
We understand that there is a lot of competition between equally worthy organizations for fundraising dollars. While not all nonprofit demographics will support a $20 per-bottle fundraiser, finding a "sweet spot" between initial cost and return will yield a much more successful fundraiser than you think.
Don't believe us? Consider these three examples: 
–An elementary school PTA wants to create spirit and raise money. They have $300 to spend, and want to purchase cheap water bottles, put their school logo on them, and sell them to students and their families.
They look at the Squeeze Water Bottle Colors (a great child-safe bottle, by the way). Their budget will buy them 200 water bottles, setup, and shipping.
The school thinks it can sell the bottles for $4 each, resulting in roughly $2.50 per bottle in profit, all in. So, if they sell all 200 bottles, that's a nice $500 in their pockets! Great! Or is it…
–An animal rescue needs to raise money for supplies. They think a fundraiser would be well received by the rescue's supporters, and while they don't have a set budget, they need to maximize their return. They've noticed that people are reluctant to purchase hard goods to support the shelter's programs more than once or twice a year.
They look at the Thermal Insulated Water Bottle because of the immediate brand awareness (it looks like the popular S'well bottles, and has top of the line copper vacuum insulation). They also like that it's a high-quality bottle. They believe that choosing high-quality products extend to their organization's messaging and creates a more favorable opinion of the rescue.
They purchase 72 Thermal Insulated Water Bottles with a one-color logo printed on both sides and spend about $1150 with setup and shipping.
Since similar S'well bottles can be purchased in stores for $35-$45, they figure they can sell their "special edition" rescue bottles for $30 each. This results in approximately $15.98 in profit per bottle. When the last of the 72 bottles is sold, they have made $1150.56!
–A nonprofit cancer organization chose our popular Traditional Water Bottle because it's made in the USA of durable Tritan, and has a high-perceived value. The bottle is also available with a nonprofit discount at all quantities. They order 250 bottles with a one color imprint and spend approximately $850 with setup and shipping.
They sell the water bottles for $10 at community events, for $6.60 per-bottle profit. When they sell out, they have made $1650 in profit!
Your organization may decide to sell your water bottles for more or less than in our examples. Whatever price you set, it's relatively clear how opting for cheap water bottles ultimately made the least amount of money.
When considering your water bottle fundraiser, keep these in mind and remember that cheap water bottles don't necessarily equal the greatest return. While these bottles are all great (our staff uses them all the time), spending a little more money upfront will likely yield better results in the end.