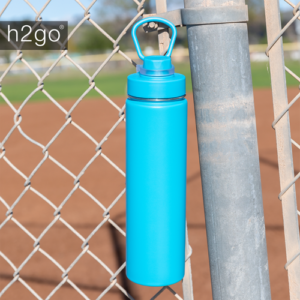 Spring is finally here, and summer is right around the corner! For summer promotions, that usually means colorful, bright, and fun vibes for your audience to enjoy! We know there are many projects on the horizon for most organizations as we look ahead to the summer months, so let's take a look at some of our products that have stellar color options we think would be perfect for summer promotions! We of course have many reusable water bottles that offer full color printing for your custom logo or design, but let's look at some bottles that offer bright and unique colors for the body of the bottle. Summer water bottle promotions never looked so good!
H2go Voyager Stainless Steel Bottle – This insulated water bottle is great for summer because it keeps your drinks nice and cold on a hot day. Plus, it's color options are absolutely perfect for summer promos! We love the yellow, orange, and light blue for something unique and summery. They are sure to stand out from the crowd this summer, especially with your custom logo on there!
Swig Insulated Bottle with Flip Lid – Another insulated bottle that will keep your water ice cold on a hot day! The flip straw lid is perfect for staying hydrated while on the go, at a sports game, or on the hiking trails! We love the aqua, hot pink, and hydrangea colors for summertime sipping!
Liberty Originals USA Made Aluminum Bottle – This aluminum bottle comes in a very large range of colors, so you're sure to find the perfect one to match your company's personality no matter the season! For summer, it offers a variety of bright colors like yellow, pink, orange, teal, and so much more. Perfect for fun promotions all summer long!
H2go Conquer Insulated Bottle – This bottle from the popular h2go series has some of our favorite color options for summer. They are bright, fresh, and totally unique! If you're looking for a quality bottle that will stand out from the crowd, this is it. Colors aside, it's features are enough to make this your next favorite bottle!
As you're deciding on what is the best summer water bottle for your upcoming promotions, don't forget to reach out to our team with any questions you might have. We're here to help with anything regarding colors, design, printing, shipping, and more. Reach out today!