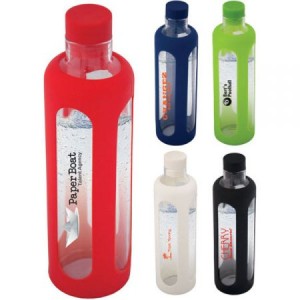 Custom glass water bottles are at once classic and stylish, and Bulletin Bottle [.com] is proud to offer a hand-picked assortment of them.
Glass is a time-tested, preferred water bottle material for lots of reasons. Custom glass water bottles are made from sustainable raw materials and can be recycled over and over again—with no loss of purity. It's this clarity that keeps water tasting like water, with no altering of its flavor the way that some metal and plastic bottles can leave an ever-so-slight aftertaste (that's only perceptible to some).
Custom glass water bottles have a very high-perceived value and whether you choose a one-color screenprint or a full color imprint, your logo will stand out. Another way to customize glass water bottles is by choosing one that comes with a silicone sleeve. These protective full and partial sleeves come in a lot of color options, which means you're sure to find one that compliments your artwork or branding.
Every custom glass water bottle is dishwasher safe, though we recommend hand washing plastic and silicone components (like lids and sleeves). To increase the longevity of the imprint, however, we do suggest hand washing the entire bottle.
The sleek design of a custom glass water bottle is sure to turn heads, create a favorable impression, and be your recipient's go-to drink vessel for a long time to come.