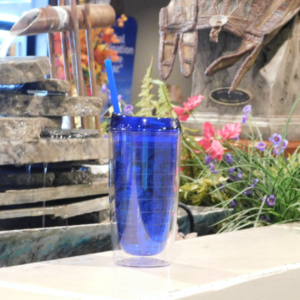 Here's a fun, colorful item that will catch your eye! Our Twist Tumbler is a new twist on a classic design (see what we did there?). This double walled tumbler is not insulated, so it's meant for cold drinks only, but it will keep the condensation at bay during the hotter parts of the year. It fits in most vehicle cup holders but is also fully capable of sitting on your desk all day.
Our staff tester, Deborah, took this 16 oz. tumbler with her on a road trip and gave us some feedback. She said, "I love the way this blue color brightens my mood! This tumbler is great for cold drinks as the double wall on it prevented sweating from the ice!" It fit great in my cup holders without vibrating around, and it was easy to grab and drink from on the fly.
Deborah also mentioned that the screw down top makes this tumbler super easy to fill with handfuls of ice. We do recommend hand-washing this one, but luckily it's easy to clean at the end of the day because of the design! She also loves the dual-featured top that allows for a drinking spout in place of the straw. Hey, sometimes you just don't want a straw! But if you, do, Deborah said it's a great size that allows for the perfect amount of liquid flow. We all hate those teeny straws that don't allow you to get enough to drink!
The Twist Tumbler is just the thing to get your clients and staff excited for the upcoming new year. A small gift like a double walled tumbler for sipping drinks can generate some hope for a fresh start or warmer weather. It's the little things that brighten someone's day!