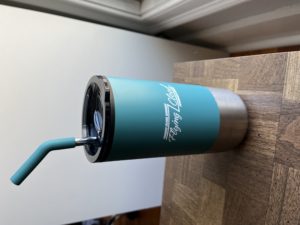 Our Marketing gal on the Bulletin Bottle team, Ashley, has tried out a few products on our site to see what she thinks. Today were going to highlight the Insulated Travel Tumbler with Stainless Straw. She's been using this tumbler for the last few weeks and realized her initial thoughts about it were totally wrong!
At first glance, Ashley wasn't sure if she was going to love this tumbler. She drinks a lot of water throughout the day, and she wasn't sure if the 16oz capacity would be big enough (she didn't want to keep getting refills all day long!). She also wasn't sure if the plastic lining within the tumbler would do the trick of keeping her beverages cold through the day. Let's just say that her worries would totally put at ease after a few days of using this tumbler. She found herself reaching for this tumbler instead of others she had in her cabinet!
It quickly became one of her favorites! She loves that it's lightweight, because she can easily take it on her mid-day walks, in the car on a drive, and pretty much anywhere she goes. Plus, the lid is fantastic. When not using a straw, you have the slid closure lid that makes the tumbler perfect for hot teas and coffee. She loves how secure the lid feels. She never has to worry about her beverage leaking!
Let's talk about the straw though, because this might be Ashley's favorite part. The straw is stainless steel and has a silicone tip at the top. Ashley absolutely loves this straw for her morning smoothies! It's a bit wider than other stainless-steel straws she has, which she really loves. The slight bend in the straw at the top makes it easy to use, and the silicone is just perfect. Ashley will use the straw with other bottles she has as well! It's multi-purpose and can be used for so many beverages from smoothies to cocktails.
Speaking of cocktails, Ashley is excited to use this insulated travel tumbler over the summer for beach and pool days. It would be perfect for keeping cocktails cool on a hot day, and the press on lid keeps drinks from spilling. Overall, she highly recommends this tumbler for everyone especially as we head into the summer. It's a lightweight tumbler that holds its own and will start to become your favorite before you know it!