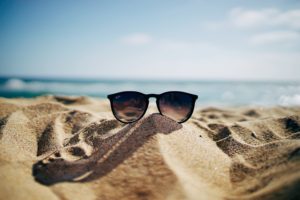 We've entered a new month and we know that the hot summer days aren't far away! Soon we'll be scheduling pool days, sports games, outdoor parties, and more on the calendar. With all these fun summer events comes opportunities for promotional products. Don't underestimate the power of custom water bottles in bulk to promote your brand and add something unique to your event! We've created a list of our favorite bottles as we head into summer 2022 to help get your project started. Read more about them below!
Large Stainless Steel Tumbler – this tumbler is perfect for long days spent in the sun! The clear acrylic lid with slide closure is large enough to fit a straw, and the tumbler's lined with BPA-free plastic. So, it's lighter weight and less expensive than their vacuum insulated counterparts! We are true statement pieces at any party or events and are extremely useful during the summer!
Traditional Water Bottle with Tethered Lid – If you're looking for water bottles in bulk made here in the US, this one is a perfect choice. It's a classic design and has a screw on lid, so it's a classic water bottle that everyone can use and love! We love this bottle for summer because of the vibrant colors it comes in, like teal, violet, and orange to name a few!
Sleek Stainless Steel Tumbler – everyone loves a good tumbler during the summer months. This one in particular is sleek and trendy! Customize it with your event's branding and give everyone something they'll use all summer long. This tumbler comes with a straw and a flip-top lid combo!
Double Duty Can Insulator – these insulated coozies are a must for summer festivities! They're perfect for keeping drinks cold throughout the warmer months and are a great way to market your company's logo, especially if you're in the food and beverage industry. These drinks can stay cold for a super long time because they are made of vacuum insulation!
Petal Insulated Tumbler – this double walled tumbler holds 20.9 oz and comes in a variety of elegant colors. We love the color options for this tumbler! If you're looking for an elegant option with a high perceived value, look no further. Its copper vacuum insulation ensures drinks will stay hot or cold for hours.
We hope this list helps jumpstart your next summer project! Summertime is a wonderful time of year to get creative with your promotional products and connect with your audience in a new way. Water bottles in bulk are the perfect way to do just that. Let us know what bottles you love for summer by commenting below, or sending a message on our social media!