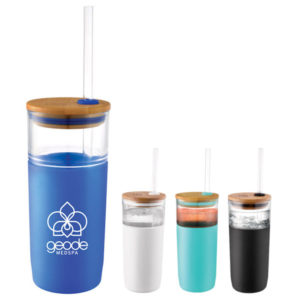 There are thousands (probably millions) of water bottle options out there to choose from. Each claiming to be good for the environment, sustainable, recyclable, and more. It's hard to decipher which bottles are greenwashing and which bottles are actually worth your time. Lucky for you, we've compiled a list of water bottles that are perfect for brands who are prioritizing sustainability and conscious consumerism. Wondering what the best water bottle is that's made with natural materials? Check out our list below of some of our favorites.
Glass Bottle with Bamboo Lid – We think that glass bottles are a wonderful option for sustainable brands, because glass is one of the most eco-friendly materials that water bottles come in! Glass is 100% recyclable and non-toxic, but still affordable. It can be recycled over and over again without loss in quality. Read more about why we love glass water bottles here. This bottle is wrapped in a soft silicone sleeve for easy grabbing and has a non-slip bottom as well. Plus, it's beautiful and elegant!
Glass Tumbler with Bamboo Lid – Similar to the bottle we listed above, this glass tumbler has all the same amazing features but with the trendy design of a tumbler! These tumblers are an incredible option for sustainable-focused brands because not only are they eco-friendly, but they have a high perceived value and tumblers are extremely popular!
Gaia Bamboo Tumbler – This tumbler is your eco-friendly BFF! It is a bio-composite of 70% bamboo fibers and other natural materials. Bamboo thrives with no fertilizers or pesticides, and its fast-growing nature makes it the perfect resource for reusable bottles and tumblers. It's a sustainably sourced material that you can feel good about! This tumbler is BPA, PVC, and Phthalate free and also includes a natural gift box!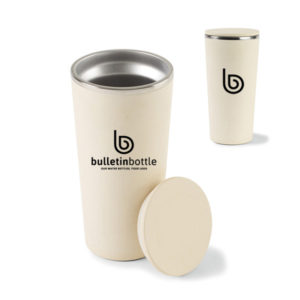 H2Go Frosted Glass Rincon Bottle – This upscale, sleek borosilicate glass bottle is a beautiful item to market your sustainable brand with. It has a threaded bamboo lid and comes in a variety of beautiful blue color tones. This elegant bottle is an item that people will reach for time and time again!
These are a few of our favorite water bottles that are both sustainable and trendy! Consciously hand-picked by our team at Bulletin Bottle and favorites for a reason. These are the best water bottles that are made with natural materials …for all the Earth-lovers out there!