Tritan water bottles–we love 'em! And, we know you will too. The question is: do you want a drinking spout, straw, or twist off lid? In the end, it really comes down to preference. Tritan water bottles are dishwasher safe, stainproof, and odorproof. If you'd like more information on Tritan's history, read this blog. So, what to choose? Let us offer up a few suggestions!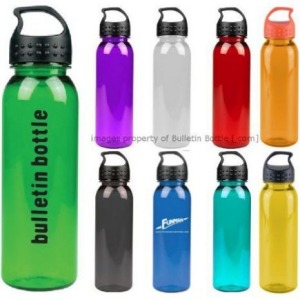 First up is our popular Traditional Water Bottle. We love this bottle's large color assortment and sleek design, as well as its ability to handle vertical imprints and large logos. The crest lid has a built in grab handle that makes it easy to tote around and the opening is wide enough to fit ice cubes.
What our staff tester didn't like about this bottle is the lid. She said, "I work at a desk all day and I prefer to drink through spouts, so I don't have to constantly screw and unscrew the cap–or risk the possibility of knocking the bottle over and spilling water on my desk."
Despite really liking the overall design of the Tradititional Water Bottle, she really needs a spout lid for her purposes (that's why we just added the Traditional Water Bottle with Straw to our lineup!).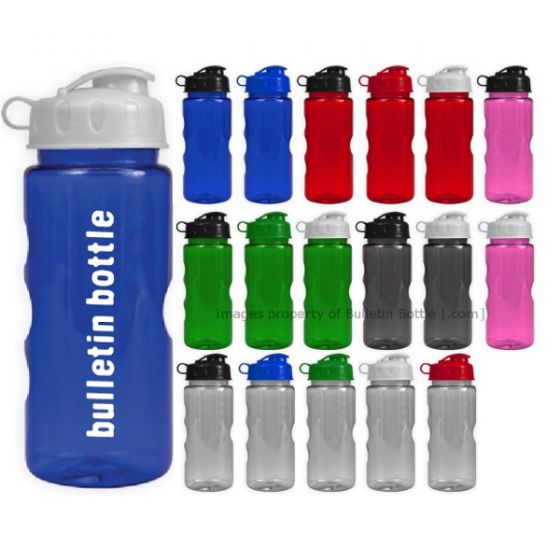 We also took a closer look at the Flipper Water Bottle and Textured Gripper Bottle. They're actually the same bottle with different lid styles! We love that they have finger grips, which make it easy for kids (and adults) to hold. The mouth is wide enough for easy filling–even with ice cubes, and the bottles come in a huge assortment of lid and bottle colors. Our staff tester loved that you can add a carabiner to the bottle and hook it to a backpack or duffle so she doesn't forget to take it to work (or school, or the gym or on a walk, or…).
These three Tritan water bottles are a great example of choosing a bottle based on form AND function. Think of who you're distributing the bottles to, and what application they'll likely use it for. That can help guide you towards a screw down lid or a drinking spout!