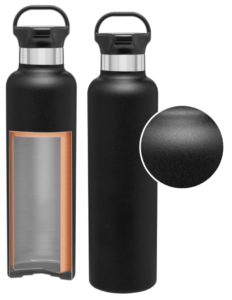 Looking for a water bottle that's up to the challenge of a life in motion? Take a closer look at our h2go Insulated Grab and Go Bottle!
This water bottle is a staff favorite, and for good reason. Can we just start with the exterior? The colors are fantastic. From bright neons to matte black, and everything in between, our clients will find a color that best suits their organization's identity AND stay on-trend.
The unique, powder-coated textured finish just screams rugged outdoors, but guess what? There's actually a reason for it. You know how that first scratch on a new water bottle hurts as much as a ding on a new car? Kind of. Okay, maybe not but it is still a bummer when a beautiful finish is marred. Believe it or not, the powder-coating adds durability and scratch resistance to the bottle. It's also smudge-proof, obviously, and provides added grip (see rugged outdoors reference above…never know when you'll need to hold extra tight to your favorite bottle!).
We also love the heavy-duty, gear shaped insulated lid. Nothing says hard core like a lid that's built to last! It has a large handle area, and grippy things (that's a top-secret technical term, by the way) that make it really easy to turn. The lid design is unlike any other bottle we offer, and we love that it's so unique! Plus, a hefty handle comes in handy when you're lugging around 25 ounces of liquid!
Under the hood, you'll find the same goodies that make up many of our insulated bottles. Top-of-the-line copper vacuum insulation keeps your drink cold (or warm) for hours and hours, and 18/8 double wall stainless steel ensures you're getting a VERY nice bottle with high-quality materials.
So, you can see why we think the h2go Insulated Grab and Go Bottle is so amazing. We would be super-stoked to get one as a gift from someone, and would definitely pony up the money to buy one in a store or as a fundraiser. Just sayin'. It's a beautiful bottle that's more than worth its value. See for yourself!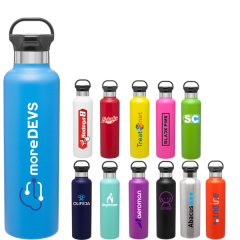 SHOP NOW!
h2go Insulated Grab and Go Bottle
Item #:
ETB98157S
As low as:
$12.85Minimum 48 pcs.
Includes one color logo.