Our Insulated Tumbler with Straw and Acrylic Tumbler with Straw look to be the same, but there are several key differences between the two that may dictate which product works best for your needs. Read our owner's take on these two popular "bottles".
When I first saw the Insulated Tumbler at a trade show earlier this year, I wasn't crazy about it.  I reguarly use our Acrylic Tumbler with Straw, and I really like it for iced water and iced coffee, and the Insulated Tumbler seemed, well, cheaper (it is…by nearly $2!).  The polypropylene material is softer than the hard acrylic tumbler, and I had a hard time believing that this type of double wall tumbler would have any insulating properties (keep reading, because I was wrong!).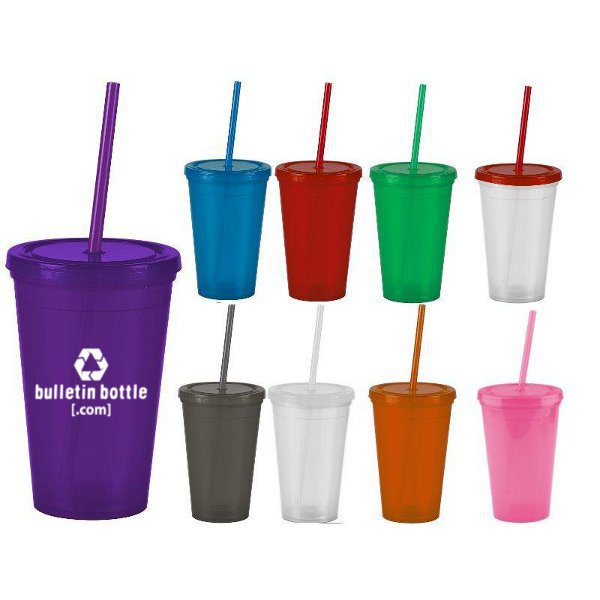 After using the Insulated Tumbler for a few days I realized that I really like it! I typically use a water bottle at my desk, and I prefer a spout with a straw, so it worked really well for me.
The double-wall construction adds some insulation, but it's not designed to keep your drink cold for hours on end on a really hot day. However, I did (accidentally) set it down on my brand new paperback book on a very hot day, and I was happy to see that it did not sweat or create a water ring on my book. The same holds true for our Acrylic Tumbler.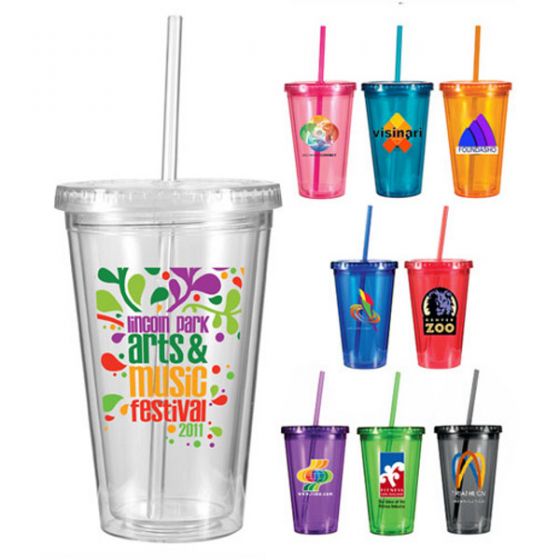 I've been using the Acrylic Tumbler with Straw for years with iced coffee in the summer. It makesAcrylic Tumbler with Straw my leftover morning coffee seem much more like an expensive coffee shop iced coffee. It washes out easily and doesn't leave any lingering coffee smells or tastes. I have only used the Insulated Tumbler with water, but I think if you put iced coffee in it, you would probably want to clean it right away to make sure the smell doesn't permeate the plastic.
Unlike the Acrylic Tumbler, which has a screw down lid, the lid on the Insulated Tumbler simply snaps on and off. They both have stoppers on the end of their straws to keep them from falling out of the lids.
I still prefer the more expensive Acrylic Tumbler with Straw. It has a higher perceived value (especially in clear) and can be printed in full color digital graphics. BUT the Insulated Tumbler with Straw is a great product at a great price. It's also tested and approved for use by children 3 and up, AND it's made in the USA. For these reasons I think this item works very well for the right promotion.